2022 PLAYER / PITCHER OF THE WEEK #16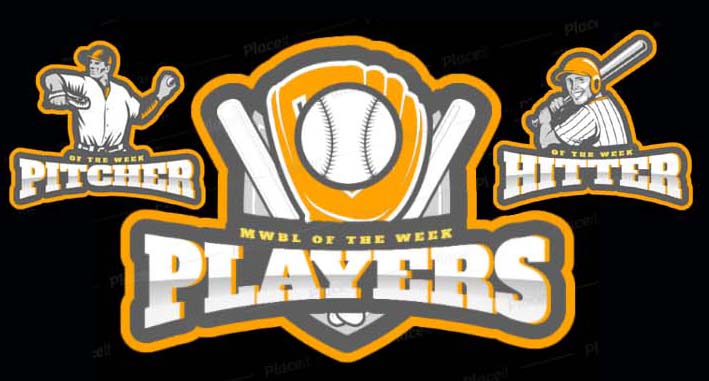 | | | | | | | | | | | | | | | | | | |
| --- | --- | --- | --- | --- | --- | --- | --- | --- | --- | --- | --- | --- | --- | --- | --- | --- | --- |
| NAME | TEAM | AVG | SLG | G | AB | H | 2B | 3B | HR | R | RBI | K | W | IW | SB | CS | HBP |
| WONG,Kolten | MSS AL | .471 | 1.059 | 4 | 17 | 8 | 1 | 0 | 3 | 6 | 8 | 1 | 0 | 0 | 0 | 0 | 0 |
| | | | | | | | | | | | | | | | | | |
| NAME | CLUB | G | W | L | S | ERA | IP | R | ER | H | K | BB | IBB | WP | BK | HB | HR |
| NOLA,Aaron | DET AL | 2 | 2 | 0 | 0 | 2.93 | 15 | 5 | 5 | 7 | 22 | 5 | 0 | 0 | 0 | 1 | 2 |
| | | | | | | | | | | | | | | | | | |
| NAME | TEAM | AVG | SLG | G | AB | H | 2B | 3B | HR | R | RBI | K | W | IW | SB | CS | HBP |
| JUDGE,Aaron | BAL NL | .379 | .862 | 6 | 29 | 11 | 2 | 0 | 4 | 5 | 9 | 6 | 1 | 0 | 1 | 0 | 0 |
| | | | | | | | | | | | | | | | | | |
| NAME | CLUB | G | W | L | S | ERA | IP | R | ER | H | K | BB | IBB | WP | BK | HB | HR |
| MONTAS,Frank | TCP NL | 2 | 2 | 0 | 0 | 1.20 | 15 | 2 | 2 | # | 15 | 3 | 0 | 0 | 0 | 0 | 1 |
Southwest Detroit Fighting Chihuahuas @ Hollywood Werewolves

Series Summary:

Hollywood takes 5 of 6 from Southwest Detroit. SW Detroit is running with a 4 man rotation which hurt them. Plus they had a couple of injuries which didnt help
Valdosta Snappers @ Jersey Nor'easters

Series Summary:

The series is split 3-3. The Nor'easters were poised to take the series 4-2 but newly acquired reliever Luis Cessa gives up 3 ninth runs and the Nor'easters go down to defeat 6-4.
Virginia Sluggers @ Chicago Mobsters


Series Preview:

High Flying & feeling good Chicago hosts the Sluggers of Virginia who look, well… A little Sluggish, & not in a good way.

Game #1:

Joey Votto is the man, going 3 for 4 with a Home Run & 2 RBIs. Marcus Stroman strikes out 12 Sluggers om 7 Innings of work.

Final Score: Chicago 4 – Virginia 3

Win: Marcus Stroman 8-9 (3.75)
Loss: Trevor Williams 5-7 (4.22)
Save: Alexander Reyes #11

Game #2:

Another 1-Run Game. Anthony Rizzo has a 3-Run Home Run for Virginia. Chicago gets 2 RBIs out of Joey Votto, Andrew McCutchen, & Bryan De La Cruz.

Final Score: Chicago 8 – Virginia 7

Win: Julio Urias 8-4 (3.07)
Loss: Triston McKenzie 7-5 (3.78)
Save: Aroldis Chapman #14

Game #3:

Tied at 4 runs each in the 9th, with one out and a runner on first base, long-time Mobster Andrew McCutchen does what he has done so many times for Chicago. 2 Run Home Run, Walk Off shot for Cutch.

Final Score: Chicago 6 – Virginia 4

Win: Devin Williams 1-1 (2.84)
Loss: J.T. Chargois 4-3 (1.82)

Game #4:

Trevor Bauer goes 8.2 Innings before allowing a Whit Merrifield Double with 1 Out to go for a No-Hitter.
Brad Miller has 3 RBIs & Bryan De La Cruz puts up 2 RBIs as Chicago takes this one.

Final Score: Chicago 5 – Virginia 1

Win: Trevor Bauer 12-1 (2.00)
Loss: Luis Castillo 6-11 (6.39)
Save: Aroldis Chapman #15

Game #5:

Chicago falls in this one as Casey Mize is not himself allowing 4 Runs. Big Man on Campus for Virginia was Bryan Reynolds who has 2 Hits, including a Home Run & 3 RBIs.

Final Score: Virginia 5 – Chicago 2

Win: Eli Morgan 3-11 (5.28)
Loss: Casey Mize 11-2 (3.48)
Save: J.T. Chargois #21

Game #6:

Marcus Storman went 8 solid but allowed 4 Runs (3 Earned). Chicago only produced 3 Hits. Trevor Williams gets a Quality Start & the Sluggers' pen closes it down over the final 3 Innings of play.

Final Score: Virginia 4 – Chicago 2

Win: Trevor Williams 6-7 (4.16)
Loss: Marcus Storman 8-10 (3.72)
Save: J.T. Chargois #22

Series Summary:

Chicago takes the series 4 games to 2, but the Sluggers played some solid ball along the way.
Selkirk Steelers @ Long Beach Dirt Bags

Series Preview:

This series features the top 2 teams in the NL in a possible playoff preview.

Game #1:

What a start to the series! In the first, Betts led off the game with a HR and Semien also homered that inning giving Selkirk a 2-0 lead. Long Beach tied it in the 2nd on RBI hits by Marsh and Torreyes. It stayed that way until Semien hit his second HR in the 8th. Long Beach tied it in the bottom of the 9th on a Grossman HR. The bullpens put up zeros until Semien hit his 3rd HR of the game in the 16th to give Selkirk a 4-3 win. Long Beach had their chances to win, having 2 runners thrown out at home and leaving 15 men on base.

Game #2:

The Long Beach bats exploded in this game and they rolled to a 13-2 win. Perez & Cruz homered while Heredia had 4 hits and Mendick 3.

Game #3:

Lynn threw a 2-hit shutout as Long Beach won 2-0. Both Dirt Bag runs scored on SFs by Turner and Mendick.

Game #4:

Selkirk took a quick 2-0 lead when Betts walked and Carlson homered to start the game. Long Beach tied it in the 3rd on a Wade solo shot. They took a 3-2 lead on a Mendick HR in the 7th and held on for the win. In the 8th Selkirk loaded the bases but Hendriks came in and retired Winker to end the threat. He worked a 1-2-3 9th to close out the 3-2 win.

Game #5:

This was another pitchers duel 1-1 heading to extra innings. In the 11th Semien homered to give Selkirk a 2-1 win. This was his second extra inning game winning HR of the series.

Game #6:

Another pitcher's duel. The only run scored in the 6th when Torreyes singled in Marsh as Long Beach won the series finale 1-0. Both starters Wheeler & Anderson were excellent and the Dirt Bag bullpen went 3 2/3 innings to finish off the game.

Series Summary:

In a very close competitive series Long Beach won 4 of 6 from Selkirk.
Bethesda Bandicoots @ Rosemere Renegades

Series Summary:

Low scoring Series split.
Columbus Explorers @ Sacramento Capitals

Series Summary:

Sacramento takes 5 of 6. Misses the sweep in Game 6 extra innings.
Mesa Solar Sox @ Detroit Crime


Series Summary:

Detroit takes the series 4 games to 2.
Baltimore Comets @ Tempe Tempers

Series Preview:

The best in the NL East faces the runner up in the NL Central.

Game #1:

Gallo and Judge go deep in the first. Bogaerts rbi single in 2nd and two run homer in 4th tied it. Tempe left runners on in multiple late innings and Gallo made them pay with a two run homer in the 10th.
Baltimore 5-3 10 INN

Game #2:

Gray complete game shutout and Baltimore squeaks another win.
Baltimore 1-0

Game #3:

Tempe loads the bases in the bottom of the 9th on Jansen and he walked in the tying run but K'ed Ozuna to keep the game tied at 2-2. Wainwright pitched 9.2 innings. Straw rbi sac fly in the 12th. Tempe loaded the bases in the bottom of the 12th with one out, but Clippard got Albies to ground out.
Baltimore 3-2 12 INN

Game #4:

Gilbert knocked out in the second after giving up 7 runs. Baltimore continued to pound the ball giving Tempe their fourth loss of the series and 7th loss in a row at home.
Baltimore 19-1

Game #5:

Gallo two run homer in the 3rd. Tempe gets one in the 6th and two in the 7th to finally take the lead and get a win.
Tempe 3-2

Game #6:

Judge solo shot. Martinez two run homer. Renfroe three run shot. Bogaerts solo. Jansen closed it out.
Baltimore 4-3

Series Summary:

Baltimore put a massive beat down on Tempe to take 5 of 6 games. Tempe may have set their all time consecutive loss streak at home for the franchise by dropping 7 straight games between this series and the last. Baltimore looks like the team to beat in a competitive NL East. Tempe will look to take advantage of a depleted Coots roster and start working the phones again for another bat.
Triple Creek Patriots @ Harsens Island Walleye


Series Preview:

Triple Creek visits Harsens Island.

Series Summary:

The Patriots take 4 of 6.
Dallas Cougars @ Tijuana Bottle Rockets

Series Preview:

Tijuana takes on Dallas in a 6 game series

Series Summary:

Tijuana Sweeps!
Corktown Cycle @ Portland Lumber Jax

Series Preview:

The 45-51 Corktown Cycle visit the 42-53 Portland LumberJax.

Game #1:

Lopez pitches a CG 2-hit shutout for Corktown.
CRK 1 POR 0

Game #2:

Portland gets shut out to the second straight game. Ray on Okert combine for the Cycle.
CRK 7 POR 0

Game #3:

Portland finally scores… but Corktown still gets the win.
CRK 5 POR 3

Game #4:

All Corktown again.
CRK 6 POR 1

Game #5:

Two one hitters! Corktown gets a run with their hit on a Chisholm HR.
CRK 1 POR 0

Game #6:

Corktown scores six runs in the first inning, then closes to withing one, and then Corktown scores 4 more in the top of the knife.
CRK 10 POR 7

Series Summary:

Corktown gets sweeps Portland 6-0!
Cincinnati Skyliners @ Southbend Lynx

Series Preview:

Southbend hosts Cincinnati for a 6 game series.


Game #1:

CIN B.Anderson vs SBL T.Houck

SBL Houck is dominant thru 6IP giving up only 1 hit, 1 walk, while fanning 7. SBL finish out the game with 4 relievers with Steckenrider eventually earning his 31st save.

Muncy had an rbi-2b in the 1st for all the scoring the SBL would need but he also adds an rbi-1b in the 7th as he goes 3-3 with 2 rbi, a run , and a 2b.

Anderson actually pitched well for CIN going 6IP giving up only 4 hits, walking 1 and fanning 3. But he was the victim of his own throwing error which lead to 2 unearned runs.

SBL WP-T.Houck Sv-Steckenrider / CIN LP-B.Anderson

Southbend 4, Cincinnati 0

Game #2:

CIN V.Gutierrez vs SBL K.Stewart

Both starters were sub par in this game; CIN Gutierrez gives up 5 runs in 6IP and SBL K.Stewart gives up 7 runs in 5.1IP.

Behind 2-1 CIN rallies back and puts up 5 runs in the T5 highlighted by Choi's 3-run HR. But SBL kept it close with 3 runs in the B5 with the big hit being a Muncy 2-run HR.

CIN kept the pressure on with 2 runs in the T6 on a Sheets rbi-2b and a Realmuto Sac Fly to go up 8-5.

But the CIN pen couldn't hold as Ottavino comes on and walks 4 straight SBL hitters in the B7 and then Alford ties the game with a 2-run 1b.

SBL take the lead in the B8 when Fraley has an ibf-1b, steals 2nd, Bichette grounder moves him up, and then he scores on a Altuve FC grounder as Fraley beats the throw home.

SBL Steckenrider then closes out nthe game in the T9 for the SBL.

SBL WP-L.Jackson Sv-D.Steckenrider / CIN LP-T.Mayza

Southbend 9, Cincinnati 8

Game #3:

CIN J.Brubaker vs SBL F.Peralta

On paper this should've been an SBL victory as Peralta (Grade 19) faces Brubaker (Grade 3)

But that's not how it turned out as CIN scores 1 in the T3 and 2 in the T4 for an early 3-1 lead. The big hit was a Sheets 2-run HR in the T4. CIN adds another run off Peralta in the T6 on a Realmuto rbi-2b to make it a 4-1 lead.

But SBL ties it in the B6 on solo-HRs by Tucker, Altuve, and Escobar.

SBL Altuve with an rbi-2b in the B7 for a short lived lead as CIN gets an India rbi-1b and a Realmuto H&R rbi-2b in the the T8 to retake the lead.

Again, that pest Altuve ties the game with a 2 out rbi-1b in the B9 off Bickford and we head to extra frames.

CIN finally breaks thru against the SBL bullpen with 2 runs in the T14 on a Edman solo-HR and a Realmuto rbi-1b.

CIN C.Irvin is stellar as he comes on in the 10th and tosses 5 innings of shutout ball giving up only 1 hit to get the win.

CIN WP-C.Irvin / SBL LP-H.Sawamura

Cincinnati 8, Southbend 6

Game #4:

CIN P.Sandoval vs SBL J.Yamamoto

A reversal of the previous game with CIN having the advantage with Sandoval (Grade 12) vs Yamamoto (Grade 3).

Both Sandoval and Yamamoto throw scoreless ball thru the first 5 innings. SBL break thru in the B6 with solo-HRs from Muncy, Altuve, and Alford. The second time in the series SBL hit 3 HRs in one inning!

CIN gets a Joe rbi-1b in the T7 bringing on Cimber, but in the T8 after a CIN Urias 2b, SBL D.Steckenrider
comes on to record a 4 out save.

SBL Escobar hits a solo-HR in the B8 as all 4 SBL runs come off solo-HRs.

SBL WP-J.Yamamoto Sv-D.Steckenrider / CIN LP-P.Sandoval

Southbend 4, Cincinnati 1

Game #5:

CIN B.Ober vs SBL N.Pivetta

Both Ober and Pivetta pitch well through 5 innings. SBL is up 2-0m after 5 but CIN ties the game with a run in the 6th and a run in the 7th; the big hit being a Urias PH solo-HR in the T7.

Again, the CIN bullpen could not do the job as B.Anderson comes on for CIN and gives up 3 runs on 3 hits and a walk and Mayza comes on and gives up a run on 2 hits. SBL got key hits from several different players in the 7th.

SBL T.Duffey gets the win despite being less than solid himself as he gave up a run in his inning of work.

SBL WP-T.Duffey / CIN LP-B.Anderson

Southbend 6, Cincinnati 2

Game #6:

CIN C.Irvin vs SBL T.Houck

CIN C.Irvin, the hero of Game#3, didn't have it in Game#6 as he gives up 4 runs on 7 hits in 5IP.
SBL T.Houck, was as bad in this game as he was good in Game#1 as he gives up 5 runs on 7 hits inn 1.2IP.

The hero of this game would be SBL K.Stewart who wasn't very good in Game#2. Stewart comes on in the T2 and proceeds to pitch 6IP giving up 1 run on 4 hits while walking none and fanning 7.

CIN built a 6-0 lead after 2 1/2 innings with the big blow a Sheets 3-run HR in the T2. SBL stays in the game with 2 in the B3 and then 2 more in the B4 on a Meadows 2-run HR. SBL Meadows would bring the Lynx within a run with a solo-HR in the B6.

The game goes into the B9 with CIN calling on Bickford to close out the game. Bickford gets Canha but then Andrus boots Bichette's grounder, Bichette steals 2nd, Tucker Ks, Muncy bbs, and then Altuve again comes thru against Bickford with an rbi-1b to tie the game at 6-6!

The game goes to the B11 where Muncy wins it with a walk-off solo-HR.

SBL WP-D.Steckenrider / CIN LP-R.Stephenson

Southbend 7, Cincinnati 6

Series Summary:

Southbend takes the series 5-1 over Cincinnati. Southbend definitely benefited from Cincinnati electing to send down some of their better starting pitching for this series.
Coconut Creek Crushers @ Motor City Muscle

Series Preview:

Coconut Creek @ Motor City for 6 games.

Series Summary:

Crushers live up to their name and take 5 of 6.
Fremont Cannons @ Yonge Street Stalkers

Series Preview:

The Cannons visit Yonge Street.

Series Summary:

The home team started out strong, winning the first 2 games. Fremont was having none of it, and stormed back to take the last 4.