2023 PLAYER / PITCHER OF THE WEEK #2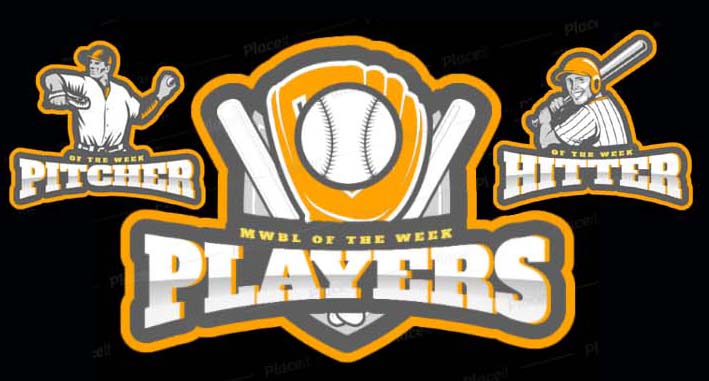 | | | | | | | | | | | | | | | | | | |
| --- | --- | --- | --- | --- | --- | --- | --- | --- | --- | --- | --- | --- | --- | --- | --- | --- | --- |
| NAME | TEAM | AVG | SLG | G | AB | H | 2B | 3B | HR | R | RBI | K | W | IW | SB | CS | HBP |
| McCUTCHEN,Andrew | CHI AL | .263 | .895 | 5 | 19 | 5 | 0 | 0 | 4 | 4 | 10 | 3 | 1 | 0 | 0 | 0 | 0 |
| | | | | | | | | | | | | | | | | | |
| NAME | CLUB | G | W | L | S | ERA | IP | R | ER | H | K | BB | IBB | WP | BK | HB | HR |
| GERMAN,Domingo | YSS AL | 2 | 2 | 0 | 0 | 1.20 | 15 | 2 | 2 | 5 | 15 | 4 | 0 | 0 | 0 | 0 | 2 |
| | | | | | | | | | | | | | | | | | |
| NAME | TEAM | AVG | SLG | G | AB | H | 2B | 3B | HR | R | RBI | K | W | IW | SB | CS | HBP |
| YEPEZ,Juan | SAC NL | .375 | .938 | 5 | 16 | 6 | 1 | 1 | 2 | 3 | 9 | 2 | 1 | 0 | 0 | 0 | 0 |
| | | | | | | | | | | | | | | | | | |
| NAME | CLUB | G | W | L | S | ERA | IP | R | ER | H | K | BB | IBB | WP | BK | HB | HR |
| VERLANDER,Justin | TEM NL | 3 | 2 | 0 | 0 | 0.00 | 10 | 1 | 0 | 2 | 10 | 2 | 0 | 0 | 0 | 0 | 0 |
Yucaipa Road Runners @ Harsens Island Walleye

Summary:

Harsens takes 5 of 7. All games were low scoring and close.
Detroit Crime @ Southwest Detroit Fighting Chihuahuas

Summary:

Southwest Detroit takes 4/6 from crosstown rivals Detroit.
Long Beach Dirt Bags @ C

orktown Cycle




Preview:

A couple playoff teams from 2022, Long Beach actually winning the league. LBD has only 2 wins entering this series.

Game #1:

Corktown walks it off, scoring all 3 runs in the 9th. Zach Wheeler had a gem going into the 9th.

Corktown 3-2
W. Yerry De Los Santos 1-0
L. Tyler Matzek 0-1

Game #2:

All Cycle in this one. 5 RBI for Amed Rosario with 2 HR.

Corktown 10-4
W. Robbie Ray 2-0
L. Brett Martin 0-1

Game #3:

Corktown jumps out early again and that was all they needed.

Corktown 5-1
W. Adrian Sampson 1-1
L. Jose Urena 0-2

Game #4:

The Dirt Bags get on the win column for the series despite Corktown hurler Josiah Gray going the distance. Tyler Matzek makes up for his blown save in game 1.

Long Beach 3-1
W. Logan Webb 2-1
L. Josiah Gray 1-2
S. Tyler Matzek (2)

Game #5:

The Cycle were able to get to the LBD pen once again.

Corktown 6-3
W. Jose Berrios 3-0
L. Joely Rodriguez 0-1
S. Jorge Lopez (1)

Game #6:

In Game 1 Zach Wheeler came into the 9th and tried to throw a complete game shutout. Game 6, Wheeler has the stuff again. How good is his stuff? 13 Ks and 4 walks. The game was still tied 0-0 in the 9th, and not only did Zach Wheeler have a shutout going, but he was tossing a No Hitter. Wheeler walked Tony Kemp with 1 out and the game is very much in jeopardy for the Dirt Bags. Jazz Chisholm in to pinch run for the Cycle. With Chris Taylor at bat, Jazz swipes 2nd base. Now the winning run for Corktown stands at 2nd base. All while Wheeler is throwing a no hitter. Wheeler throws the next pitch in the dirt and the winning run takes off for 3rd base. The ball took a favorable bounce and catcher Cooper Hummel was able to throw a strike and nail Jazz at 3rd! Wheeler ends up walking Taylor, but now there is 2 outs. Wheeler works the count full on Nate Lowe and strikes him out! Zach Wheeler has thrown 9 no hit innings, but we still have bonus baseball!
Cycle Robbie Ray (who shouldn't be underlooked at all) has thrown 14 K's, 4 BB's and 4 hits himself. Ray exits the game to start the 10th. Lefty Steven Okert enters who quickly retires the first 2 batters. Hummel, who had the big throw out in the 9th comes up with a base hit and steals 2nd base. Tommy Pham hits a ground ball to Chris Taylor who is playing 3rd. Should be a routine out but Taylor fires one past Ryan Mountcastle at 1b scoring the leading run for Zach Wheeler and the Dirt Bags. 1-0
We go to the bottom of the 10th and Zach Wheeler is coming back to try for the 10 inning no hitter!Ryan Mountcastle- Strike out
Alex Verdugo- Fly out
JJ Bleday-BLEDAY now walks out to bat … for the CYCLE only one out left * J. BLEDAY facing Z. WHEELER, B 10th, 2 Outs, Bases Empty, Behind 0-1 The pitch … OOOOF! … BLEDAY flails the air … but fails to make contact with the ball he heads back to the bench … and that's the last out of the game The DIRT BAGS have won it! … spurred on by the disciplined leadership of Buck Miller IV '22 it went to the 10th inning … Zack WHEELER has a no-hitter! … a no-hitter! a 4-walk no-hitter … listen to that crowd!
Zack WHEELER the no-hit hero surrounded by his teammates … here's the line for the DIRT BAGS … a run on 5 hits … one misadventure … they leave 9

Long Beach 1-0 (10)




W. Zach Wheeler CG 2-0


L. Steven Okert 0-1

Summary:

Corktown takes the series 4-2. Long Beach has a very slow start to 2023, but maybe can build off Wheeler who had a monster series to say the least. His era now sits at .33
Columbus Explorers @ Triple Creek Patriots

Preview:

Home opening series for Triple Creek is a 7 game set vs. the Explorers.

Game #1:

12 inning affair to kick things off. Urshela 3-6 (1 RBI) and Blackmon 2-4 (2 HRs and 3 RBI) led Columbus. But this game would come down to the bullpen and Triple Creek's hung on. Seager nearly one it by himself with 4 RBI (triple and HR).

CE 4 TCP 5

W: Strahm (1-0)
L: Wantz (0-1)

Game #2:

Triple Creek led 1-0 until the 6th when things unraveled for Kopech. Three runs later the Explorers had all they needed for the W as Patriot bats went quiet.

CE 3 TCP 2

W: Espino (1-0)
L: Kopech (0-2)
S: Herget (1)

Game #3:

Patriots score single runs in the 1st and 2nd while Montas held Columbus scoreless for 7 full. Hughes had three days off and the rust showed as Columbus smacked him around for 2 runs. Tied 2-2 after regulation the teams go to extras again. Columbus scored 1 in the top of the 10th but Wantz struggled again and Miller drills a walk-off 2 run job off him. Bullpens could use a breather.

CE 3 TCP 4

W: Staumont (1-0)
L: Wantz (0-3)

Game #4:

Patriots jump out to a big 9-0 lead after 4 innings. Wheels came off in the 5th for Kremer as Explorers pillage him for 5 runs. Ashby comes on in relief and somehow tosses doughnuts the rest of the way. Urshela, Blackmon each collect 3 hits as Columbus rakes 14 safeties. Smoke and mirrors type W for the home squad.

CE 5 TCP 8

W: Ashby (1-0)
L: Lyles (0-2)

Game #5:

Stop me if you've heard this before, but this game takes extras. Back and forth battle all game leads to a 6-6 tie after 9 full. The Patriot pen has been on fumes the whole series but they feel decent sending Jimenez out there in the 10th but it was not to be. Three hits and a walk later the Explorers takes it as Herget holds the fort. Tapia 3-5 and Chirinos (2 doubles w/ 2 RBI) paced the visitors.

CE 7 TCP 6

W: Herget (1-0)
L: Jimenez (0-1)

Game #6:

Columbus took advantage of Triple Creek's bull pen gas cans being empty as they blow it up 12-3. 14 hits for Columbus and 13 were singles; dink-fest extraordinaire.

CE 12 TCP 3

W: Schmidt (1-0)
L: Hughes (0-1)

Game #7:

Game 7 is nearly a mirror image of game 6, great for Explorer fans, train wreck for Patriot fans. Blackmon 4-5 3 rbi led all Explorer bats but there were 4 teammates with multiple hits. Whack-a-mole special.

CE 11 TCP 2

W: Espino (2-0)
L: Wood (0-1)

Summary:

Unusual stat of the series, just 1 total save. Explorers take the series 4-3.
Prairie Falcons @ Tempe Tempers

Preview:

Tempe hosts the retooling Falcons for a six games series.

Game #1:

Kikuchi vs. Verlander
Tempe knocked out Kikuchi in the second inning after jumping to a 4-0 lead in the first. Verlander tossed five shutout innings for the win and Cueto mopped up the final four innings. Thompson, Ozuna and Fletcher homered.
Tempe 7-1 W-Verlander, L-Kikuchi, S-Cueto

Game #2:

Ashcraft vs. deGrom
Prairie scored one earned run off deGrom as he went seven strong innings for the win. Bouchard had a key two run pinch hit homer to put the game out of reach.
Tempe 5-2 W-deGrom, L-Ashcraft, S-Munoz

Game #3:

Cessa vs. Darvish
Taylor and Garcia each hit solo homeruns in the first inning to put Prairie up early. Benintendi RBI double in the 5th put the Falcons up 3-0 and knocked Darvish out of the game. Cessa was cruising until the bottom of the 6th when Tempe exploded for five runs capped by a Brantley three run homer. In the 8th, things got interesting. Prairie loaded the bases with no outs. Tempe brought on Munoz who popped up the first hitter he saw, but then walked Grisham to walk in a run and make a 4-5 game. The next batter, Kreidler failed to get a suicide squeeze down and the runner on 3rd was tagged out. Munoz then lost his control again and beamed Kreidler to reload the bases. However, Munoz rebounded to strikeout Romine to end the 8th. He recorded two more SO in the 9th for the two inning save.
Tempe 5-4 W-Strzelecki, L-Cessa, S-Munoz

Game #4:

Junis vs Perez
Prairie scored a run in the first on a Garcia rbi single, but they caught a bad break when Story who was just returning from being injured took a pitch off his shin and will miss 12 more games. Tempe played small ball scoring a run in each of the first three innings and had a 4-1 lead after six innings. Perez lasted to the 8th when he left with two outs and two runners on base. Kreidler hit a rbi single to make it 4-2 of Strzelecki, but Verlander came on and got Stephenson to ground out to end the inning. Munoz got the first three hitters in the 9th for his third save of the series.
Tempe 4-2 W-Perez, L-Junis, S-Munoz

Game #5:

Kluber vs. Verlander
Realmuto, Peralta, and Gonzalez all homered off Kluber as Tempe scored seven runs before the end of the third inning. Verlander went five innings for the easy win and Cueto pitched the final four innings for the inning based save.
Tempe 9-2 W-Verlander, L-Kluber, S-Cueto

Game #6:

Eovaldi vs. Darvish
Eovaldi and then Kikuchi were both knocked around early. Bourchard went 2-3 in the lead-off spot with 3 runs and 2 homeruns. Freeman went 4-4 with 4 RBI on two doubles and one homerun. Darvish pitched five innings for the win and Banks pitched the final four innings for the save.
Tempe 10-2 W-Darvish, L-Eovaldi, S-Banks

Summary:

The Pairie Falcons are currently focused on their drafting and player development, but the sweep was still a bit unexpected. The Tempe Tempers bats got hot early which prevented the low grade starter grades from jumping. The Falcon's also dealt with a bunch of fatigue issues on offense during the second half of the series. Verlander was the pitcher of the series going 2-0 and giving up only two hits with 10SO and 0 ER in 10.1IP. Rookie Sean Bouchard was the hitter of the series with three homeruns and a 1.643 OPS. He also just ruptured his bicep in spring training and will be out for the year, so he got the nod.
Motor City Muscle @ Hollywood Werewolves

Summary:

Hollywood wins 5 of 6.
Selkirk Steelers @ Baltimore Comets

Preview:

The 4-3 Selkirk Steelers visit the 5-2 Baltimore Comets in an early season MWBL matchup.

Game #1:

Bryson Stott's pinch-hit 2-run double in the bottom of the 8th wins the series opener for the Comets.

STEELERS 5 / 9 / 1
COMETS 6 / 10 / 2
WP – Bummer (1-0)
LP – Hendriks (0-1)
S – Phillips (2)

Game #2:

The Selkirk bats batter the Baltimore pitching for 12 runs and 17 hits to cruise to a game 2 victory. Evan Longoria and Marcus Semien lead the way with 3 hits each.

STEELERS 12 / 17 / 0
COMETS 1 / 5 / 1
WP – Cease (2-0)
LP – Quintana (1-1)

Game #3:

Selkirk tags Baltimore starter Sonny Gray for 7 runs and 9 hits, and Max Fried and a trio of relievers shut out Baltimore on 7 hits. Selkirk hits 4 homeruns in the game: Pete Alonso, Salvador Perez, and Jesus Sanchez with a pair.

STEELERS 8 / 11 / 0
COMETS 0 / 7 / 0
WP – Fried (2-0)
LP – Gray (1-1)

Game #4:

It takes 13 innings, but Baltimore evens up the series with a walk-off victory, hanging a second loss in the series on Liam Hendriks. Joey Wendle leads the Comets' offense with a couple of singles, 2 RBIs and a stolen base.

STEELERS 3/ 5 / 0
COMETS 4 / 11 / 1
WP – Jansen (1-0)
LP – Hendriks (0-2)

Game #5:

Another offensive explosion for Selkirk, as the Steelers put up a 10 spot in the 5th to break open a close game. Mookie Betts had 3 homeruns, knocking in 6 for Selkirk.

STEELERS 14 / 14 / 1
COMETS 8 / 14 / 2
WP – Rucker (1-0)
LP – Mikolas (1-1)

Game #6:

Selkirk withstands a Comet 9th inning rally to hold on for a 3-2 victory and series win. Mookie Betts homers again for the Steelers, his 6th already this season. Dylan Cease wins his 3rd.

STEELERS 3 / 8 / 0
COMETS 2 / 3 / 0
WP – Cease (3-0)
LP – Taillon (0-2)
S – Iglesias (4)

Summary:

Selkirk leaves town with a 4-2 series win.
Portland Lumber Jax @ Bethesda Bandicoots

Preview:

An early season matchup with teams from opposite coasts trying to find their way.

Game #1:

The Lumber Jax homered three times off George Kirby en route to a pretty easy 5-1 win.
Max Kepler led the way with two hits including a home run.
Josh Harrison fell to a five-day injury for Bethesda which wound up completely mucking up their team fatigue as this clown plays everywhere.

Game #2:

Gleyber Torres' homer in the 5th prove to be the game winning run as Portland edged Bethesda 5-4.
Both he and Chas McCormick led the Lumber Jax with two hits in the contest.
The Bandicoots once again were bitten by the injury bug with Pavin Smith and Paul DeJong colliding in the 4th inning. Dejong got knocked out for just one day, but Smith was gone for two weeks.

Game #3:

No injuries to report – for Bethesda – as the bean-balled their way to a 8-0 win over Portland.
Michael Wacha tossed five innings of one-hit ball for Bethesda. Wacha, who had hit Jose Iglesias in the 1st inning, was replaced by Jake Odorizzi who was in the game for 2/3 of an inning and was tossed after he first hit Iglesias again (knocking him out of the rest of the series) and then beaning CJ Cron.
Shea Langeliers singled and homered for Bethesda and drove in half of the team's runs.

Game #4:

A pitchers' duel won by the Lumber Jax as Zac Gallen out-pitched Reid Detmers by tossing a one-hitter in a 1-0 Portland victory.
Gallen allowed just a double to Victor Reyes while striking out five and walking none.
Detmers allowed five hits over 7 plus innings and fanned seven.
Austin Barnes got the lone RBI on a ground out in the 5th that scored Nick Allen who made amends after committing two errors in the game.
The injury and bean ball parade continued with Detmers plonking two Lumber Jax – one of which, Tyler Nevin – wound up getting knocked out of action for 3 days.

Game #5:

Paul DeJong ended a 15-inning marathon with a two-out double off Jordan Hicks high off the left field wall that scored Jose Siri in a 3-2 Bethesda win.
Portland amassed all of two hits over the 15 innings with Max Kepler doing the damage with a two-run homer off Merrill Kelly in the 6th.

Game #6:

Jeff McNeil and Nick Fortes were perfect at the plate for Bethesda as they hammered Portland 8-1.
McNeil collcted four hits and Fortes three with Andrew Vaughn kicking in with three of his own.
C.J. Cron had three hits and hit his 3rd home run of the season with his the only ball that left the park.

Game #7:

Jordan Hicks was once again the extra-inning victim of the ball off the wall this time coming off the bat of Nick Fortes as the Bethesda catcher drove in the winning run in the bottom of the 10th with one out, 4-3.
Max Kepler continued to have a fine series for Portland with a single and a double in the game.
Matt Moore was the extra-inning winner for the second time in the series for Bethesda.
Another ejection for Bethesda with Alex Cobb getting tossed after beaning Gleyber Torres.

Summary:

A close, bloody series that saw Bethesda winning twice in extra innings to edge out Portland 4-3.
Chicago Mobsters @ Coconut Creek Crushers

Preview:

Will CCC get off the schneid?

Game #1:

CCC leads for 5 innings before fading. CHI wins 7-4.

Game #2:

All CHI as they cruise 8-5.

Game #3:

CHI cruises 6-3.

Game #4:

Alvarez and Stroman combine to carry CHI to an 8-1 win.

Game #5:

Musgrove carries a shutout into the 7th, but CHI rallies to win 3-2.

Game #6:

Urias cruises to his 4th win for CHI in an easy 6-1 victory.

Summary:

CHI sweeps CCC 6-0.
Sacramento Capitals @ Valdosta Snappers

Summary:

The series ended up being a 3-3 split, thanks to Austin Riley's 5 HR's!
Fremont Cannons @ Dallas Cougars

Preview:

Opening day first pitch caught by Pudge! https://www.youtube.com/watch?v=LAac3IwVr1Q

Game #1:

M.J. Melendez hit a 2-run homer and a grand slam to lead the offense and rookie starter Cole Ragans struck out 10 batters making opening day a memorable one for Dallas fans.
Dallas wins 7 to 2

Game #2:

Kole Calhoun hit two home runs this time for the Cougars and starter Lucas Giolito struck out 12 as Dallas took game two.
Dallas wins 6 to 4

Game #3:

Fremont scored one run in third on a dropped flyball and another run on a bases loaded HBP, while the Cougars could only manage a solo home run by Seth Brown.
Fremont wins 2 to 1

Game #4:

Four home runs paced the Cannons offense as they coasted to victory evening the series at 2 games apiece.
Fremont wins 8 to 4

Game #5:

Cougars blow a 6-2 lead when Teoscar Hernandez triples two runs in the 7th scoring himself on a double by Austin Hays. The Carlos Correa hit a two run homer with two outs in the 8th to cap the scoring.
Fremont wins 7 to 6

Game #6:

Cole Ragans struck out 11 in complete game effort, but also gave up 3 home runs.
Fremont wins 4 to 1

Game #7:

Giolito looked like he was going to lose a tough pitcher's duel but Dallas scored 4 times in the bottom of the 9th winning it when Victor Caratini hit a 3-run blast.
Dallas wins 4 to 2

Summary:

Cannons win 4 of 7 in Dallas
Cincinnati Skyliners @ Tijuana Bottle Rockets

Preview:

Tijuana hosts Cincinnati for 6 in this week 2 match-up.

Game #1:

Tijuana's S. Strider and E. Swanson combine to no-hit The Skyliners in this 3-0 victory.

Game #2:

M. Trout drives in 3 and P. Sandavol throws 6 innings of 3-run ball as the visitors take this one 5-3.

Game #3:

I. Paredes hits a home run(5), J. Sears throws 5 scoreless and Tijuana's bullpen holds. Home team wins 3-0.

Game #4:

Locked in a 1-1 tie, C. Carroll blasts a 2-run homer to propel Tijuana to a 3-1 victory.

Game #5:

The visitors ride a gem from R. Hill to a 6-1 win.

Game #6:

Finding themselves down 3-0, Tijuana plates 6 in the bottom of the 8th for the come from behind win 6-3.

Summary:

Tijuana takes the series 4-2.
Mesa Solar Sox @ Virginia Sluggers

Preview:

Virginia (3-3) opens at home against the first place Mesa Solar Sox (6-1).

Game #1:

VIR 4-3 W-T.McKenzie (2-0) L- D.Lynch (0-1) SV- C.Holmes (3)

A FC in the 4th put MSS up 1-0. VIR bounced back in the bottom of the 4th with 2 runs to take the lead, VIR pushed across 2 more in the 6th highlighted by L.Rengifo's triple. C.Holmes came in for the save.

Game #2:

VIR 7-4 W-J.Ryan (2-0) L- D.Lee (1-1)

Tied 3-3 going into the bottom of the 7th, VIR scored 2 runs in the 7th and 8th and held on for the win. RBI doubles by S.Murphy and W.Merrifield along with a RBI triple from G.Springer accounted for the 4 runs.

Game #3:

VIR 7-0 W- L.Castillo (1-0) L- D.Smyly (0-1)

This was all Castillo. CG shutout, 6 H and 11 K's. O.Gonzalez had 2 of MSS's hits. S.Murphy's 3-run double in the 4th was VIR's big blow while. L.Renfigo stayed hot going 3-3 with 2 runs and a RBI.

Game #4:

MSS 6-2 W- P.Lopez (3-0) L-G.Soto (0-1)

T.Ward had a good day. His 2-run blast (5) in the 1st was followed by a 2-run double in the 8th that put the game away. For the day,…2-4, 2 R, 4 RBI. R.Devers' 2-run single was the only offense for VIR. Bad news for both teams – VIR's N.Lodolo was injured after 2 IP and lost for 29 days. It also created a mess with pitching availability the rest of the series. MSS lost T.Anderson for 11 days, but E.Tovar did well in his place.

Game #5:

MSS 17-3 W- K.Hendricks (2-0) L- S.Baz (0-2)

A laugher. MSS hit 7 HR. O.Gonzalez 2-6, 2 HR, 5 RBI. Y.Gomes 3-5, HR, 4 RBI. C.Santana a 3-run HR. R.Grichuk 3-6, 4R, HR, RBI. J.Aguilar 2-3, 3R, HR, 2 RBI. E.Tovar 2-5, solo HR. It was bad, Well, for VIR anyway.

Game #6:

VIR 6-3 W-E.Hernandez (1-1) L-D.Lynch (0-2) SV- C.Holmes (4)

R.Grichuk (3) and T.Ward (6) homered early to give MSS a 3-2 lead after 3 innings. However, C.Biggio's 3-run dinger in the 5th made it 6-3 VIR and they made it stand.

Game #7:

MSS 5-3 W-R.Pressly (2-0) L-M.Givens (0-1)

R.Devers hit a game tying HR in the bottom of the 9th. After 9 innings they played 7 more before VIR got sloppy in the 16th and let Berti steal home on a double steal. An E-1 allowed another run and that was it.

Summary:

VIR was able to eke out a 4-3 series win against a better team.
Southbend Lynx @ Yonge Street Stalkers

Summary:

YSS took 6 of 7.