2023 PLAYER / PITCHER OF THE WEEK #1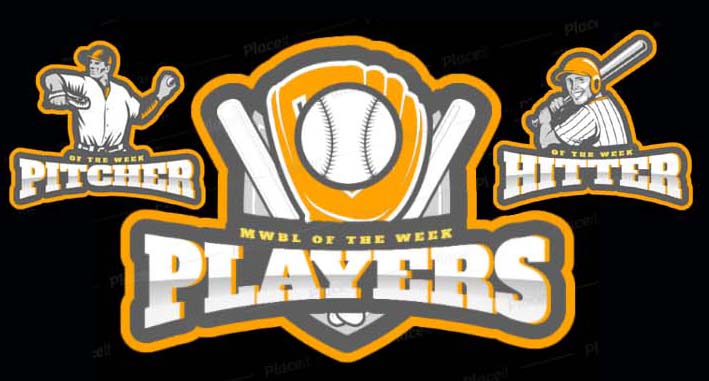 | | | | | | | | | | | | | | | | | | |
| --- | --- | --- | --- | --- | --- | --- | --- | --- | --- | --- | --- | --- | --- | --- | --- | --- | --- |
| NAME | TEAM | AVG | SLG | G | AB | H | 2B | 3B | HR | R | RBI | K | W | IW | SB | CS | HBP |
| RAMIREZ,Jose | CIN AL | .417 | .750 | 7 | 24 | 10 | 2 | 0 | 2 | 6 | 8 | 3 | 5 | 0 | 1 | 0 | 0 |
| | | | | | | | | | | | | | | | | | |
| NAME | CLUB | G | W | L | S | ERA | IP | R | ER | H | K | BB | IBB | WP | BK | HB | HR |
| URIAS,Julio | CHI AL | 2 | 2 | 0 | 0 | 0.00 | 12 | 0 | 0 | 3 | 10 | 2 | 0 | 0 | 0 | 0 | 0 |
| | | | | | | | | | | | | | | | | | |
| NAME | TEAM | AVG | SLG | G | AB | H | 2B | 3B | HR | R | RBI | K | W | IW | SB | CS | HBP |
| DE LA CRUZ,Bryan | TCP NL | .370 | .667 | 7 | 27 | 10 | 5 | 0 | 1 | 1 | 9 | 7 | 2 | 0 | 0 | 0 | 0 |
| | | | | | | | | | | | | | | | | | |
| NAME | CLUB | G | W | L | S | ERA | IP | R | ER | H | K | BB | IBB | WP | BK | HB | HR |
| VERLANDER,Justin | TEM NL | 2 | 2 | 0 | 0 | 0.82 | 11 | 1 | 1 | 3 | 6 | 0 | 0 | 0 | 0 | 0 | 1 |
Yucaipa Road Runners @ Bethesda Bandicoots

Preview:

Two teams probably in for a long season take their reasonably decent pitching and bottom of the barrel offense to the cozy confines of Bethesda for a six-game set. Play Ball!

Game #1:

Two teams uninterested in scoring runs take it almost down to the wire and is decided by lazy mouse-clicking. With two outs and two on in the 8th inning Zach Short happily stole home against the inattentive Bethesda battery to give the Road Runners the go-ahead run and their first win of the season 2-1.
The teams combined for all of 9 hits in the game. Rhys Hoskins was the offensive juggernaut with two singles as well as driving in the tying run in the 8th for Yucaipa.
Bryan Garcia had a strong start for the Road Runners going 7.1 innings and allowing just four hits and three walks while striking out four.
Merrill Kelly performed admirably in a losing effort striking out 8 and walking four to go with four hits over 8 innings of work.
W-Garcia (1-0)
L-Kelly (0-1)
HR-Are you kidding?

Game #2:

A very similar game as game one with both teams fumbling away like two seniors in the back seat of a limo in the dark at prom.
Bethesda emerges from the disarray with the win thanks to a long-ball from flash-in-the-pan 1st baseman Frank Schwindel in a 2-0 win.
Another game with the teams combining for 9 hits.
Braxton Garrett went the distance for the Road Runners fanning eight without allowing a walk. He gave up 5 hits.
W-Kirby (1-0)
Sv-Moore (1)
L-Garrett (0-1)
HR-BET: Schwindel (1)

Game #3:

Impotence reigns supreme in this series up to this point with runs as hard to come by as metal-tipped lawn darts.
Yucaipa bashes out four hits – but one of them left the park, thank God – with Rhys Hoskins again being the big man on campus for the visiting team. Luis Urias chipped in with a double and was rewarded with a fastball to the head that knocked him out for the rest of the series. Well done, Mr. Cobb who probably wanted to throw at his own hitters to get them going.
Shea Langeliers had all/both of the Bethesda hits in this one as they were not doing anything against Bailey Falter and Company.
W-Falter (1-0)
SV-Sanders (1)
L-Cobb (0-1)
HR-YRR: Hoskins (1)

Game #4:

The drought continued for Yucaipa, but the Bandicoots finally reached the oasis.
Jake McCarthy (thanks, Stray!) and Victor Reyes each collected three hits as the Bandicoots scored a 7-0 win over the Road Runners.
Michael Wacha tossed five shutout frames to earn the W with Jake Odorizzi logging some innings for that all too often seen four-inning save.
W-Wacha (1-0)
Sv-Odorizzi (1)
L-Bradish (0-1)
HR-BET: Smith (1), Fortes (1)

Game #5:

Thank you, sir – may I have another?
Why yes – have a bunch!
Bethesda showed Eric Lauer and the Road Runners no respect whatsoever in a 13-0 spine-cracking of the Road Runners.
Jeff McNeil and Adam Duvall each collected three hits with Duvall scoring four runs. Jose Siri and Victor Reyes each drove in a trio of runs.
W-Detmers (1-0)
L-Lauer (0-1)
HR-BET: Siri (1), Duvall (1)

Game #6:

Rampant scoring out of the way, Bethesda rode the coattails of Chris Flexen who allowed just one unearned run in a 3-1 Bandicoots' win.
Adam Duvall homered in the game to continue a start that exceeded all expectations as he hit .357 in the series with two homers … and nailed three baserunners at home plate!!!! Sorry, Mark – but not.
W-Flexen (1-0)
L-Garrett (0-2)
HR-BET: Duvall (2)

Summary:

Bethesda takes 4 of 6 from Yucaipa but neither of these teams will be much of a threat to play more than 162 games this season.
Triple Creek Patriots @

Long Beach Dirt Bags




Summary:

Triple Creek takes 5 of 7 from Long Beach to open the season.
Corktown Cycle @ Prairie Falcons

Preview:

Inaugural series for Little House on the Prairie and while most players are ready to say Goodnight to Laura, Pa and Johnboy the Falcons are ready to take the field and start their first ever MWBL game. This game will be jam packed with a lot of FIRSTs except for possibly Wins, League Leaders, GM of the year awards…

Game #1:

First Pitch by the Birds of Prey was thrown by Jacob Junis and he will now be etched forever in the lore of shame in Falcons History. He tosses a shutout inning which is also the first of its kind and may end up being the only one we pitch all year…the highest grade we have is an 11* in Colin Poche. Bottom of the First first inning in Falcon History and Nick Gordon was the first out of game for the Falcons…He was then followed up by putouts for Stephenson and Benintendi. Top of the second and Jacob Junis serves up the first Longball to none other then phenom Jarred Kelenic and then Luis Campusano double dips on that chip and roundtrips one himself and the Falcons fall behind for the first time 3-0. Bottom of the 2nd and T-Rey Mancini rips a gap double for the first ever Falcons hit and I can't wait to look at the historical stat page which has been blank since I took over in October. Couple batters later offseason acquisition Luis Garcia rips a gapper that rolls around long enough for him to slide in headfirst with the first triple and the first rbi while Mancini crossed the plate for the first time. In the 6th A lazy fly ball into RF and Michael Taylor and Trevor Story go back to Little League baseball and dont call each other off and they collide and roll around withering in pain…turns out Story stubbed his toe and Taylor got carpet burn on his elbow both elected to voluntarily leave the game and hit the DL as Taylor is out for 5 games and Story will be resting his toe for 10. Bottom of 7th down 5-1 and Trent Grisham sports his .113 batting average gets a hold of one and sends all 3 Falcon fans into a frenzy as it clears the RF fence for our first Homer in History. Top of the 8th and despite the Falcons getting 2 runs back the Cycle hit another pair of Back to Back homers – a 3 run jack by Nate Lowe and a solo shot by Amed Rosario and then extend lead to 9-3 and that my friends was the final…Our first game ends in a loss.

CRK 9 – PRA 1 – no surprise there….

Game #2:

Jose Berrios was masterful tossing a 5 hit complete game ( Definition according to wikipedia : is the act of a pitcher pitching an entire game without the benefit of a relief pitcher.[1] ) It has been quite a while since Complete Games were popular so many of you may not know what one is..anyhow not only was it a complete game it was a shutout to boot. Falcons hitters just could not string together much and even if they did Corktown twisted the DP in fine form. DJ Jazzy Chisholm took a pitch deep in this game. Corktown starts the year 2-0 while the birds go 0-2 and take a commanding lead on the cellar dwelling in this division.

CRK 5 – PRA 0

Game #3:

Hold on to your jockstrap boys this was a game for the record books…OK it wasnt that great but at least the Falcons don't have to wait 16 years to pop a Cherry…glass of champagne…Andrew Benintendi had a 4 hit perfromance and T-Rey Mancini hit his first homer of the year along with Lettuce – Andrew Romine with his first homer as well. Nate Eovaldi the ace of the staff threw 6 scoreless innings and the Falcons bullpen tossed the final 3 gooseeggs in the First ever WIN for the Fowl feathered friends…Nothing to report about the CYCLE this game as they were flat – the only positive note is that I swear every time Ernie Harwell says something about them I have to read it twice cause I keep thinking somebody hit for the CYCLE or needs double for the CYCLE…driving me nuts….

CRK 0 – PRA 6

Game #4:

Ray on the Hill for the Bi-CYCLE-s…as they currently have 2 wins in the books in 2023…Robbie Ray on the Hill and he gives up a dinger to T-Rey Mancini and 3 hits to Luis Garcia and Fans throughout the league are wondering who the hell are these Falcons as they put up 10 hits and 4 runs…Well just flip down to the Pitching section and you will see that the Big Sushi Roll Yusei Kikuchi allowed the CYCLES a CYCLE and the Luis Cessa airplane and Phil Brickford allowed dingers more dingers leading to the demise of the Falcons. Danny Jansen, Bobby Bonbs and Verdugo all went yard which is very uncharacteristic of a Boston player to be rude to an outsider…

CRK 9 – PRA 4

Game #5:

Another rookie on the hill for the Birds and early on he gets a whole lotta luvin as the Falcons run around the Bases – Benny score, Gordon scores, Stephanson scores..Nate Lowe does his bestwith a 2 run homer but that is all she wrote as the Falcons just piled on some late runs. Benintendi and Gordon in the 1-2 spots are tearing it up at .391 and .364 Yo Adrianne Sampson too the loss and things in Corktown are a bit Rocky losing a second game to the doormat of the MWBL…

CRK 2 – PRA 6

Game #6:

Oh Baby Baby!!! The Falcons sold a few extra tickets for this game as it our Marketing team boonswaggled fans into thinking it was the Junis brothers in town for a concert…well they got a show alright. The Falcons got gift after gift from Corktown pitchers missing the mark as we walked 9 times in this affair while the lead singe of the Junis brothers Jake whiffed 9 without giving up a free pass. Grisham went yard and Tyler Stephanson ripped another 3 hits to increase his average to a crisp even .500. Corktow hit no homers adn managed to play very small ball ripping 14 hits of their own but it was not even close to enough as the final was CRK 5 – PRA 15 Yes 15 runs baby…that is the first time we hit that many…

Game #7:

Series knotted 3-3 and no single anaylst predisted this…all of them had Prairie winning 1 or maybe 2 if they got lucky but no one thought we would be playing a Trojan Rubber game. Well it was fun while it lasted cause Corktown Jazz Chisholm had 3 hits including 2 dingers and scored 4 runs which is about all they needed in this game. Alex Verdugo also had 3 hits while Jose Berrios went 7 strong innings to notch win #2… CRK 9 – PRA 2

Summary:

CRK took the series 4-3 Some strange numbers though…Offensively CRK hit .285/.338/.477 while Prairie went .276/.335/.427 12-1-12 for CRKC in extra base hits was the difference as PRA went 14-1-7…Interestingly enough both teams scored 36 runs, walked 20 times and struck out 67 times stole 2 bases and left exactly 56 runners on the basepaths…

Pitching wise CRK led with a 4.50 ERA while PRA had a respectable 4.57 ERA as we didnt give up as many unearned runs..Offense MVP CRK – Nate Lowe – despite Jazz Chisholm hitting 3 homers Nate Lowe hit .400 in the series and had 5 multiple hit games. For PRA we had a few solid choices but will tab T-Rey Mancini as he has a 7 game slash line of .423/.500/.731Pitching wise CRK's Jose Berrios is an easy pick going 2.0 with a CG SHO…he was dominant PRA – we will go with Nathan Eovaldi as he gave the Birds their first win in a 6 inning 9 strikeout 0 walk win…

CRK will head home to take on Long Beach who I assume has Sandy Alcantara on the roster as it would only make sense while PRA heads on the road to Tempe. Falcons have some injuries as Trevor Story is still out for 4 days and now Nick Gordon has to sit for 5…we have had 3 injuries already in 7 games…
Sacramento Capitals @ Portland Lumber Jax

Preview:

Sacramento visits Portland. The Capitals 115-47 record, while the LumberJax struggled to 65-97.

Game #1:

Stanton hits a solo homerun in the first inning, but Sacramento's offense dries up after that. Gallen goes 6 1/3 innings giving up just Stanton's blast. A trio of relievers close the door as Portland gets a win to start the season.
POR 5 SAC 1

Game #2:

The weird early season injury bug I have seen before hits Sacramento big time, as India is injured for 23 days and Pasquantino injured for 18 days.
Stanton hits a big 3-run HR in the 8th inning to break it open for Sacramento as they get the easy win with Scherzer on the mound.
SAC 6 POR 1

Game #3:

Stanton homers in his third straight game for Sacramento. CJ Cron answers with a two run shot for Portland. Stanton homers again.
SAC 5 POR 3

Game #4:

A big Portland 4th inning, due mainly to a bunch of errors by Sacramento, are enough for Portland to get the win.
POR 6 SAC 3

Game #5:

Stanton homers again for the Capitals, as they cruise to the easy win.
SAC 7 POR 2

Game #6:

No team scored more than one run in an inning, but Portland did so in 4 innings vs 1 for the Capitals.
POR 7 SAC 1

Game #7:

Capitals jump out to early 4 run lead, and hang on for the win.
SAC 7 POR 2

Summary:

Sacramento wins 4 of 7, but Portland put up a respectable fight.
Columbus Explorers @ Tempe Tempers

Preview:

The reloaded Tempe squad hosts an improved Columbus.

Game #1:

Lyles vs. Verlander
Verlander's second stint with Tempe began strong as he only gave up one hit over six scoreless innings. Lyles limited the damage to only a few runs until the sixth. Tempe added an additional five in the 8th to cruise to the easy win. Tempe did lose their starting 3B Drury for 9 games. Verlander was briefly a Temper when he was on the team for just a week in the middle of 2020.
Tempe 10-0
W – Verlander 1-0
L – Lyles 0-1
S – Cueto 1

Game #2:

Espinosa vs. Darvish
Darvish was on his game for Tempe and surrendered only three hits and one run over 5.2 Inn. Columbus lost Espinosa after only one pitch (6 days) and Garcia replaced him. Garcia ran into trouble in the 2nd when Peralta and Albies had key RBI hits to put Tempe up 3-0. Wantz replaced Garica and pitched well until he surrended a three run homer to Freeman in the 5th. Tempe added three more in the 7th, but even worse for Columbus was Herra (10 days) and Donovan (5 days) crashing into each other.
Tempe 9-1
W – Darvish 1-0
L – Garcia 0-1

Game #3:

Logan vs. Perez
Logan allowed Brantley and Bogearts to reach 3rd and 2nd with no outs in the first, but then got the 3,4 and 5 hitters. A Mejia rbi single in the 3rd gave Columbus their first lead of the series. Tempe put runners at 3rd and 2nd in the 3rd with one out and an infield ground out and a E3 allowed both runs to score. A Urshela solo shot tied it back up at 2-2 in the 4th. Columbus put two runners on in the 6th but Perez worked out of it. In the bottom of 7th, Peralta singled, then Hamiliton pinch ran and stole 2B. Then a RBI double by Rendon and a Brantly rbi single put Tempe up 4-2. Munoz picked up the save in the 9th.
Tempe 4-2
W – Perez 1-0
L – Gilbert 0-1
S – Munoz 1

Game #4:

Peterson vs. Degrom
Columbus jumped on Degrom for three runs in the first inning as Urshela took him deep. Tempe loaded the bases in the 2nd, but Peterson worked out of the jam. A Leblanc solo in the 3rd knocked out deGrom. 4-0. Tempe chiped away in the bot of 3rd with Pujos and Realmuto driving in runs, but Columbus fired back with a Tapia solo shot in 4th and two more insurance runs in the 7th and 9th.
Columbus 7-2
W – Peterson 1-0
L – deGrom 0-1

Game #5:

Winder vs. Verlander
Tempe pounded Winder. Three runs were scored in the 2nd with hits from Kwan, Martinez and Rendon. An additional nine runs were scored in the 4th as Tempe batted around. Kwan had a bases clearing triple to lead the way.
Leblanc took Verlander deep in the 4th to give him his first earned run of the year. Verlander exited after going five innings for the win.
Tempe 12-1
W – Verlander 2-0
L – Winder 0-1

Game #6:

Lyles vs. Darvish
A Realmuto two run homer in the first gave Tempe the early lead. Columbus tied it up at two in the 3rd with rbi hits by Machin and Tapia. A Kwan rbi single in the 3rd gave Tempe the lead again. Tempe added another run off an Albies double and a Bogarts rbi single. Mejia's clutch double with two outs in the 6th drove in two runs to tie it at 4-4. The game eventually went into extra innings with both pens putting up zeros. In the 12th, Tempe called on deGrom since he only pitched two innings in game 4 and he pitched a scoreless 12th. In the bottom of the 12th, Thompson lead off with a double. Wantz got the next two hitters before getting tired and walking Freeman and Kwan to load the bases. Garcia was then brought into the game and JD Martinez singled in the winning run.
Tempe 5-4 12 INN
W – deGrom 1-1
L – Wantz 0-1

Game #7:

Gilbert vs. Perez
Gilbert pitched an outstanding game. He ran into a little trouble in the 2nd when he loaded up the bases with no outs, but he was able to work out of it without giving up any runs. Preze was also really good giving up just one run over seven innings. The Tempe pen struggled to keep the game close.
Columbus 4-0
W – Gilbert
L – Perez 1-1
S – Bautista S

Summary:

Tempe takes 5 of 7 behind dominate pitching. Verlander was the pitcher of the series going 2-0 with a 0.82 ERA over 11IP. Steven Kwan started his rookie of the year promotion off strong driving in seven RBI and hitting with over a 900 score.
Yonge Street Stalkers @ Tijuana Bottle Rockets

Preview:

Tijuana kicks off it's 23rd season with an improved starting rotation and post-season dreams. Our opponents, Yonge Street, are one of the teams from our division looking to stomp those dreams.

Game #1:

Newly acquired A. Manoah faces off against G. Cole to start the season. Manoah goes 8 and gives up 1. Unfortunately, Cole goes 7.1 and gives up none and the bullpen holds giving Yonge Street a 1-0 victory to spoil the opener for the Tijuana faithful.

Game #2:

Nestor Cortes goes 7.1 innings of no-hit ball before "feeling something in his arm" and getting pulled. The Stalkers bullpen finishes off the job with 1.2 innings of no-hit relief. Yonge Street takes this one in spectacular no-hit fashion 2-0.

Game #3:

Yonge Street's T. Walker out pitches Tijuana's S. Strider en-route to another shutout victory 2-0. That is 3 straight shutouts by the visitors to start the season. Home team is stunned.

Game #4:

Tijuana finally gets something going. The bats come alive for 12 runs. Bottle Rockets win 12-2.

Game #5:

B. Singer dominates in CG SHO. Stalkers win 4-0.

Game #6:

Another game another shut out…This time it's Beeks, Alvarado and Clase teaming up for The Stalkers who take this one by the final 3-0.

Game #7:

I. Paredes slugs 2 homers for the Bottle Rockets and the bullpen holds for F. Valdez's 6.1 innings of 1-run ball. Tijuana takes the finale 3-2.

Summary:

I'm not sure a visiting team has ever started the season with such dominant pitching performances. The Stalkers win 5 of 7 games ALL by shutouts plus add in a no-no.The hometown Bottle Rockets look to put this series in the rear view mirror as they host Cincinnati next week.Yonge Street heads north to open their home schedule against Southbend.
Dallas Cougars @ Southwest Detroit Fighting Chihuahuas

Summary:

SWD takes the series 5-2. Jordan Montgomery goes 2-0 with two complete games, missing a no-no in the 9th inning in one of the games.
Detroit Crime @

Chicago Mobsters




Preview:

Opening Day in Chicago is always a festive one, & the Chicago faithful came out in droves to fill old Al Capone Field. Chicago faces their arch-rival from Detroit – the Crime. These teams have a love-hate relationship & it's always a good battle when they face each other.

Game #1:

Chicago gets some solid starting pitching from Julio Urias as he goes 6.1 Innings allowing only 2 Hits, and 2 Walks while Fanning 7. Chicago's solid Bullpen holds the Crime scoreless the rest of the way for the victory.
Rookie Julio Rodriguez gets his first MWBL Hit, a Triple off John Schreiber in the 6th.Final Score: Chicago 4 – Detroit 0Win: Julio Urias 1-0 (0.00)
Loss: Aaron Nola 0-1 (3.38)

Game #2:

The top 3 in Chicago's lineup are big producers with 7 Hits, & 7 RBIs. Julio Rodriguez bats 4th & has 3 more hits. Marcus Stroman goes 5 Innings before the pen comes on and locks down the door. Patrick Wisdom has a Home Run & 2 RBIs for the Crime.

Final Score: Chicago 7 – Detroit 3

Win: Marcus Stroman 1-0 (5.40)
Loss: Chris Bassitt 0-1 (37.80)

Game #3:

"Cookie" Carlos Carrasco is solid with 7 Innings of shutout ball for Detroit. Patrick Wisdom & Manny Machado have 2 RBIs each. Machado's RBIs came on 2 solo Home Runs.

Final Score: Detroit 4 – Chicago 2

Win: Carlos Carrasco 1-0 (0.00)
Loss: Noah Syndergaard 0-1 (3.86)
Save: Jason Adam #1

Game #4:

A tight one that's knotted at 4 Runs each after 9 Innings of play. Julio Rodriguez & Sam Haggerty both have 3 Hits for the Mobsters. Chicago wins it in the 10th on a walk-off Double by Haggerty.

Final Score: Chicago 5 – Detroit 4 (10 Innings)

Win: Edwin Diaz 1-0 (0.00)
Loss: Daniel Hudson 0-1 (5.40)

Game #5:

Mobsters get 2 RBIs from Alex Bregman & Willy Adames. Yordan Alvarez kicks in with 3 Hits. Julio Urias starts on 3 days' rest going 5.2 Innings & remains unscored upon for the season. Chicago pen takes over & allows only 1 Run the rest of the way.

Final Score: Chicago 8 – Detroit 1

Win: Julio Urias 2-0 (0.00)
Loss: Madison Bumgarner 0-1 (8.44)

Game #6:

Bryce Harper Homders for Detroit. Luis Arraez is 4 for 7, with 2 RBIs for Chicago, but it's who's Bullpen pen can hold out the longest was this one. Tied at 5 Runs each until the 13th Inning when Chicago walks it off.

Final Score: Chicago 6 – Detroit 5 (13 Innings)

Win: Camilo Doval 1-0 (0.00)
Loss: Aaron Loup 0-1 (0.00)

Game #7:

The Detroit Crime always plays the Mobsters tight. Chicago gets 2 Runs in the 7th on a Yordan Alvarez 2 Run Bomb to take a 4-3 lead. The Mobster's Bullpen holds down the lead covering the last 3 Innings of the game scoreless.

Final Score: Chicago 4 – Detroit 2

Win: Yimi Garcia 1-0 (2.45)
Loss: John Schreiber 0-1 (0.00)
Save: Edwin Diaz #1

Summary:

Chicago plays Detroit tough this time around, taking 6 of 7. Two of those wins are in Extra Innings.
Selkirk Steelers @ Valdosta Snappers

Summary:

Snappers win the first 3 and then the Steelers storm back, winning 4 straight.
Baltimore Comets @ Harsens Island Walleye

Game #1:

Arenado goes yard in a Walleye 5-1 victory.

Game #2:

Olson and Renfroe go yard in Baltimore's 4-2 win.

Game #3:

Arenado goes yard again in a 7-2 Harsens win.

Game #4:

Quintana throws a complete game shutout. 5-0 comets.

Game #5:

3 comet pitchers combine for the 2nd straight Baltimore victory 13-0.

Game #6:

3rd srtaight shutout. 5-0 Comets.

Game #7:

Harsens runs out of pitchers. Baltimore takes it in 12 8-7.

Summary:

Baltimore takes 5 of 7.
Hollywood Werewolves @ Southbend Lynx

Preview:

Hollywood comes to visit the Lynx in Southbend for 7 games to open the season. Hollywood again in the hunt to win the Division; Southbend comes off a nice 2022 where they won over 100 games and pushed the Werewolves all season.

Alas, Southbend will be lucky to avoid losing 100 games this year.

Game #1:

HOL C.Kershaw vs SBL F.Peralta

HOL on the board in the T3 when Crawford 2bs and Marte with an rbi-2b.

SBL take the lead right back in the B3 when Wynns 1bs with 2 out and Bichette hits a 2-run HR.

HOL ties it in the T6 when Goldschmidt 2bs with 2 out and then scores on a Cronenworth rbi-1b.

HOL Kershaw is lifted after 6IP after only allowing the 2 hits while fanning 7.

The game goes to the SBL B9 with HOL J.Romano on the hill and Altuve hits a 2-out walk-off solo-HR!

WP-H.Sawamura SBL
LP-J.Romano HOL

Southbend 3, Hollywood 2

Game #2:

HOL S.McClanahan vs SBL N.Pivetta

HOL made short work of this game as they tallied 6 runs in the T2 and 4 more in the T3.

In the HOL T2 SBL N.Pivetta walked in a few runs, Marte had a bases loaded 2-run 2b, and Judge swatted a 3-run HR. In the HOLT3 the big hit was a 3-run HR by Marte.

The lone SBL run came on a Escobar solo-HR in the B3.

WP-S.McClanahan HOL
LP-N.Pivetta SBL

Hollywood 11, Southbend 1

Game #3:

HOL D.Rasmussen vs SBL D.Martin

SBL took an early lead in the B4 when Bichette 1bs, moves up on a WP, and then scores on a Soto rbi-2b.

But HOL Rasmussen would settle in and that was all SBL would get.

HOL takes the lead in the T5 when Judge bbs and Goldschmidt hits a 2-run HR. HOL adds a insurance run in the T8 on a Kirk rbi-1b and another in the T9 on a Goldschmidt rbi-1b.

HOL J.Romano would close the door this game for his 1st save.

WP-D.Rasmussen HOL
LP-D.Martin SBL
Sv-J.Romano HOL

Hollywood 4, Southbend 1

Game #4:

HOL W.Miley vs SBL T.Henry

HOL Yelich opens the scoring with a solo-HR in the T1.
HOL adds 2 more in the T2 on a Thomas solo-HR and Yelich rbi-1b.

SBL get a run in the B3 when Thomas misplays Bichette's fly ball into a 3 base error and eventually scores on Tucker rbi-1b.

SBL pulls within a run with a Bichette solo-HR in the B5.

In the SBL B7 Cave 3bs and PH Muncy hits a 2-run HR to give the SBL a 4-3 lead.

In the HOL T9 SBL T.Houck comes on as the new closer for the Lynx and he doesn't fair well; Kirk 2bs, Chapman bbs, after Houck gets the next two 'Wolves, Yelich bbs to load the bases, and Marte then comes through for HOL with a 2-rbi 1b.

HOL C.Perez would come on and pitch a perfect B9 for the save.

WP-G.Jax HOL
LP-T.Houck SBL
Sv-C.Perez HOL

Hollywood 5, Southbend 4

Game #5:

HOL C.Morton vs SBL C.Hernandez

This game was closer than the final score would indicate.

In the HOL T5 Chapman is HBP, Isbel bbs, Marte bbs with 2 out, then Judge and Goldschmidt both draw run scoring walks for a 2-0 HOL lead.

SBL comes right back in the B5 when Plummer bbs, Muncy bbs, a Kirk PB moves the runners, and then Escobar comes through with a 2-rbi 1b to knot the score.

HOL regains the lead in the T7 on a Judge solo-HR, Goldschmidt 1b, and Cronenworth H&R rbi-2b.

HOL would then put the game away in the T9 with the help of a Barnes run scoring error and a Yelich 2-rbi 1b.

WP-C.Morton HOL
LP-A.Cimber SBL

Hollywood 7, Southbend 2

Game #6:

HOL C.Kershaw vs SBL J.Junk

In the HOL T2 Cronenworth bbs, Kirk bbs, Thomas with an rbi-1b, and then Chapman hits into a DP to score another run. In the HOL T3 a Cronenworth SF pushes the HOL lead to 3-0.

In the HOL T4 Chapman 1bs, Crawford 2bs, and then Bichette's throwing error on Yelich's grounder scores them both; HOL up 5-0.

In a strange decision by MM Maddon he yanks C.Kershaw who is throwing a no-hitter through 6 innings. HOL C.Perez tosses a no-hit 7th and S.Effross comes on in the B8.

SBL J.Cave then leads off the B8 with a 2b to end the no-no, M.Perez bbs, Bichette 1bs to LF and HOL Thomas throws the ball and Cave scores to spoil the shutout as well. Cronenworth then lets Altuve's grounder go between his legs and 2 more Lynx score to make it 5-3 HOL.

After SBL Tucker bbs, HOL calls on J.Romano to shut things down and he does just that as he induces PH Muncy to hit into a DP to end the inning.

HOL J.Romano would finish off the game with a perfect 9th to earn the save.

WP-C.Kershaw HOL
LP-J.Junk SBL
Sv-J.Romano HOL

Hollywood 5, Southbend 3

Game #7:

HOL S.McClanahan vs SBL F.Peralta

HOL again scores early in the T3 when Crawford bbs, Knizner bbs, Yelich with an rbi-2b, Judge bbs, Goldschmidt with an rbi-1b, and Kirk with an rbi-groundout; HOL 3-0.

In the SBL B4 Canha 1bs and then Escobar hits a 2-run HR.

SBL take the lead in the B5 when with 2 out Altuve 2bs and Tucker hits a 2-run HR.

The SBL bullpen finally does its job as Oviedo, Cimber, and Houck close out the game.

SBL T.Houck earns his 1st save by striking out the side in the HOL T9.

WP-F.Peralta SBL
LP-S.McClanahan HOL
Sv-Houck SBL

Southbend 4, Hollywood 3

Summary:

Somehow, Southbend wins 2 games despite being outplayed by Hollywood. It's the old addage, it's not how many hits you get, but when you get the hits. Southbend in their two wins made good use of the hits we did get.

Hollywood is still the toast of the Division as they take the series 5-2
Virginia Sluggers @

Fremont Cannons




Preview:

Fremont opens the season at home with a celebration for the 2022 World Series victory, welcoming a Virginia team that looks to be in the mix for the playoffs this year. Will the Cannons repeat as champs, or suffer the championship hangover?

Virginia starts the year with a six-man rotation, while Fremont counters with a four-man rotation.

Game #1:

The wind was blowing out today in Fremont, though the teams would trade 0's through the first three innings. Fremont breaks through in the 4th with a two-run HR from Shohei Ohtani off Virginia starter Triston McKenzie. The Sluggers answered right back in the top of the fifth with an Anthony Rizzo two-run homer off of Sandy Alcantara, followed by a solo shot from Sean Murphy to go up 3-2.

In the sixth, Virginia executes several hit-and-runs to add on a pair of runs, then Luis Rengifo sends Alcantara to the showers with a two-run homer to make it 7-2. Fremont tries to claw back in the sixth, with Ohtani's second HR and Teoscar Hernandez's first HR to bring it to 7-5.

George Springer adds some insurance with a two-run HR in the top of the seventh, which is fortunate as Josh Rojas picks up a two-run HR for Fremont in the bottom of the seventh, cutting it to a 9-7 Virginia lead. Neither team would score again, and Virginia takes the opener. 9-7.

W: Triston McKenzie (1-0)
L: Sandy Alcantara (0-1)
S: Clay Holmes (1)

HR: VIR- George Springer (1), Anthony Rizzo (1), Luis Rengifo (1),Sean Murphy (1); FRE- Josh Rojas (1), Shohei Ohtani 2 (2), Teoscar Hernandez (1)

Game #2:

Both teams are scoreless early again, with Fremont breaking the tie with Josh Rojas's run-scoring single off of Joe Ryan in the third. Both Ryan and Fremont's Carlos Rodon keep it scoreless after that, until the top of the sixth when an Eloy Jimenez three-run HR gives the Sluggers the lead.

In the seventh, Fremont reliever Ryan Tepera nails Hermosillo, MX native Luis Gonzalez in the hand, knocking him out for 12 days but firing up his Sluggers teammates. They come out in the eight and string together 3 runs to go up 6-1. A bases-loaded single from Shohei Ohtani in the bottom of the inning gets Fremont to within three runs, but it would not get any closer. Virginia wins game 2 by a score of 6-3. Eloy Jimenez went 3-3 with a HR, while Joe Ryan struck out 8 while allowing just 3 hits and 1 run in six innings.

W: Joe Ryan (1-0)
L: Carlos Rodon (0-1)
S: Clay Holmes (2)

HR: VIR- Eloy Jimenez (1); FRE- none

Game #3:

Virginia scores first in game 3, as Sean Murphy doubles down the line off of Fremont starter Austin Voth in the top of the second, bringing in Anthony Rizzo all the way from first. Javier Baez promptly ties it up in the bottom of the second with a solo shot over the wall in left-center. Virginia knocks at the door with multiple runners in scoring position but can't get any across in regulation. Fremont gets runners on 1st and 3rd with one out in the eighth but GIDP, then Baez strikes out with a runner on 2nd in the bottom of the ninth.

George Springer doubles to lead off the top of the tenth, but Giovanni Gallegos is able to end the threat. Byron Buxton looks like he will walk it off in the bottom of the tenth, but his drive is caught at the wall. An infield single and steal by Josh Rojas puts him at second base with two outs, and Shohei Ohtani is able to flick it over the infield for the walk off win for Fremont 2-1 in the tenth inning.

George Springer goes 4-5 with two steals, while Anthony Rizzo goes 3-3 with a steal of his own. Virginia pitchers issue no walks in the game, while Fremont starter Austin Voth goes 6.2 innings without allowing a walk either.

W: Giovanni Gallegos (1-0)
L: Mason Thompson (0-1)
HR: VIR- none; FRE- Javier Baez (1)

Game #4:

After an off day, the series resumes with Fremont bring back Sandy Alcantara in three days rest. While he did not look to be tired; he was still knocked around much like he was in game 1 of the series. Cam Gallagher gets it going with a two-run double in the top of the second, then a Rafael Devers double and subsequent Bryan Reynolds single makes it 3-0 on the third. A Jackie Bradley two-run homerun in the 4th extends the lead to 5-0 Virginia.

Fremont is finally able to get to Virginia's Nick Lodolo in the fifth, when Yoan Moncada and Vladimir Guerrero Jr. hit back-to-back solo homers to make it 5-2. In the bottom of the eighth, Teoscar Hernandez comes up with a two-run triple to cut it to a 5-4 Virginia lead. Clay Holmes comes on to close it out for Virginia, but a walk and an error by Holmes put two on for the Cannons. With two outs, Carlos Correa rapped it back to the mound, but Holmes commits another error and tosses it away, allowing the tying run to scorer and sending it to extra innings.

After that, Virginia rallies to put up 5 runs in the top of the 10th, aided by a Whit Merrifielfd two run HR, and they finish it off for the 10-5 win in ten.

W: Clay Holmes (1-0)
L: Ronny Henriquez (0-1)
HR: VIR- George Springer (2), Jackie Bradley Jr. (1); FRE- Vladimir Guerrero Jr. (1), Yoan Moncada (1)

Game #5:

Fremont's Tarik Skubal and Virginia's Shane Baz combine to keep the game scoreless through six innings. The Sluggers break through first with a Luis Rengifo solo HR in the seventh. Fremont ties it at 1-1 in the bottom of the seventh with a solo HR from Mike Yastrzemski, then two straight errors followed by Josh Rojas outrunning a GIDP allows another run to score for Fremont.

Back-to-back doubles in the bottom of the eighth, followed by Yastrzemski's second HR of the game put it away for the 5-2 Fremont win. Yastrzemski goes 3-4 with two homeruns, while Baz strikes out 10 in 6.2 IP.

W: Tarik Skubal (1-0)
L: Shane Baz (0-1)
HR: VIR- Luis Rengifo (2); FRE- Mike Yastrzemski 2 (2)

Game #6:

The finale of the series saw the first time that either team scored in the first inning, as Josh Rojas leads off the Cannons attack with a homerun off of Virginia starter Elieser Hernandez. A pair of walks in the second, followed by a Mike Yastrzemski double, pads Fremont's lead to 3-0. A Josh Rojas run-scoring single in the fourth increases the lead to 4-0.

The Sluggers finally get to Cannons starter Shohei Ohtani in the sixth, as a walk, error, Rafael Devers double, and wild pitch cuts it to a 4-2 lead for Fremont. A Javier Baez HR in the eighth puts cthe Cannons back up 5-2, but they miss a chance to increase the lead when George Springer nails Jace Peterson trying to score on a sac fly. The run turns out to be unnecessary, as the Cannons close it out in the ninth for the 5-2 victory.

W: Shohei Ohtani (1-0)
L: Elieser Hernandez (0-1)
S: Giovanni Gallegos (1)
HR: VIR- none; FRE- Josh Rojas (2), Javier Baez (2)

Summary:

An opening week split between the two playoff hopefuls. Sean Murphy (.462 average) and Mike Yastrzemski (.400 average) had the hot bats, while Bryan Reynolds (.160) and Jace Peterson (.143) started off cold. Sandy Alcantara opens 0-2 with an 8.31 ERA. Fremont lost three games in the series; last year, they did not lose their 3rd until the 25th game of the season.

Next week, Virginia goes home to host Mesa, while Fremont travels to Dallas.
Coconut Creek Crushers @ Mesa Solar Sox

Preview:

The home opener for Mesa as they welcome Coconut Creek to the Valley of the Sun.

Game #1:

The Crushers go up 4-1, courtesy of a Jared Walsh 2 run single and Musgrove dealing. Tim Anderson ties it with a 3 run homer in the 5th. In the 6th, Taylor Ward doubles and then scores when Wil Myers drops a fly ball off the bat of Rowdy Tellez. Scott Barlow saves it for Pablo Lopez.

Game #2:

Taylor Ward rives in all 4 Mesa runs with 2 homers and a single. Christian Javier strikes out 13 in going all the way for a 4-2 win. Hunter Greene debuts with 11 Ks in 6 2/3 innings, but takes the loss.

Game #3:

Up 3-2 in the 9th (Brandon Nimmo's HR the big blow for Coconut Creek), the Crushers bullpen gets 2 outs but does not finish the job. Chad Pinder drives in the game winner as Mesa squeeks one out 4-3.

Game #4:

Mesa starter Kyle Hendricks pitches a 6 hit, 10K, shutout. Mesa gets the long ball from Ward, Gomes, and Aguilar in the 9-0 whitewash.

Game #5:

The Crushers Blake Snell Ks 10 in 7 2/3 innings, but takes the 2-1 loss on 5th inning homers from Aguilar and Ward (his 4th of the series).

Game #6:

Joe Musgrove strikes out 10 in 6 innings, but Coconut Creek commits 5 errors, leading to 4 unearned runs. Pablo Lopez pitches a shutout for his second win if the season, 5-0.

Game #7:

Hunter Green was great again for the Crushers, this time striking out 12 in 9 1/3 innings, but does not get a decision, as the offenses stall. Each team scored twice in the 1st inning and then did not score again until the 13th when Trevino and Aguilar laced back to back doubles for a 3-2 Mesa win.

Summary:

Mesa gets the sweep, but most of the games were close and the Crushers defense really didn't help, with 12 errors in 7 games.
Motor City Muscle @ Cincinnati Skyliners

Preview:

The 2023 MWBL opens the season in Cincinnati at Glenn Sample Field, as the Motor City Muscle roll in for a seven game set.

Game #1:

MCM 4, CIN 2
Yonathan Daza delivered three hits, including a double for Motor City.

Game #2:

CIN 11, MCM 0
Anthony Santander went two-for-three smacked a triple and homer and drove in five for Cincinnati.

Game #3:

CIN 5, MCM 4
Kyle Farmer doubled, homered and drove in three for the Skyliners.

Game #4:

MCM 8, CIN 7
Motor City had six different players with extra base hits in the win.

Game #5:

CIN 8, MCM 1
Christopher Morel went four-for-five, scored three runs, drove in three, doubled and crushed two homers in the win.

Game #6:

MCM 9, CIN 0
Jo Adell went two-for-six with a double, triple and six RBI in the Muscle hand out a beatdown.

Game #7:

CIN 14, MCM 4
Tommy Edman went two-for-four, doubled, scored twice and drove in four for Cincinnati.

Summary:

Cincinnati wins four of seven from Motor City. The teams head west after the series, as Cincinnati travels to Tijuana and Motor City visits Hollywood.