XII) PENALTIES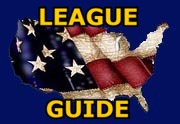 A) No 0% and -6 BF R-Use player shall be left on the 27-man active roster used to play that current series. This will be enforced throughout the year, even when roster rules increase in September.
1) Penalty:
(a) 1st offense – First Warning
(b) 2nd offense – Final Warning
(c) 3rd offense – Loss of 5th round pick*
(d) 4th offense – Loss of 2nd round pick*
(e) 5th offense – Loss of ownership
(f) *If the draft pick has been traded, the Commissioner's Office will address accordingly.
B) If assistance is needed due to personal life commitments, please contact the Commissioner's Office for assistance.