ROSARIO's IDENTITY IS FALSE ACTUALLY A PENA
For Immediate Release
June 9, 2004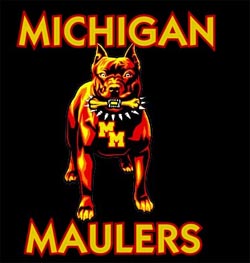 MWBL COMMISSIONER OFFICE –– One of the Maulers' top pitching prospects has been using a false identity, according to a person familiar with the player's background and records obtained by the Mid-West Baseball League's Commissioners Office.  The Mid-West Baseball League is investigating whether the pitcher known as Adriano Rosario is actually Ramon Antonio Pena Paulino, or Tony Pena, and is more than three years older than his listed age.   "We are aware that there are reports to that effect, and we are looking into those reports and have communicated with the Maulers about that," John "Stray" Corrado, MWBL's Commissioner, told the AP.
In addition, the source familiar with the player told the Michigan Free Press that one of Michigan's scouts in the Dominican Republic, assisted in disguising his identity in exchange for a share of the player's signing bonus. The source said he did not know if any other team employees knew of the false identity.

The pitcher turned 19 on Sunday–according to his previous birthdate. But the AP reported that birth records show he was born Jan. 9, 1982, making him 22. Rosario has the 1985 birth year, and more is being uncovered as we speak.
The Michigan Free Press source said he discovered the player he thought was Rosario was actually named Tony Pena. General Manager Gary Regulski said Sunday the team would have no comment beyond a statement issued last Thursday, which read, "Rosario has returned to his native Dominican Republic to address his immigration status."
The pitcher had been in the 2004 MWBL Draft but has been reassigned to the roster of the organization's prospect lists. He is expected to work out at the team's Dominican facility until the DSL season opens in June.
Before the season Baseball America ranked Rosario as the team's second-best pitching prospect. His fastball touches 98 mph, and he was a minor league all-star last season.
Even if the player is 22, he would still be considered a prospect because of his ability. What actions MWBL might take are unclear, especially because making the player a free agent would reward him, as teams would likely offer him large bonuses. MWBL Commissioner Corrado said "I doubt any action will take place, were just trying to clear up his age, and who he is.  It's tougher now after 9/11, we have to be sure of who were letting in the country and who were allowing playing in the Mid-West Baseball League".
Dominican players have fudged their ages for years to make themselves more attractive to scouts. Since 9/11, players who are not U.S. citizens have been under stricter guidelines to produce documents that prove their ages in order to get visas, which have exposed a large number of assumed names or false birthdates.