2007 MWBL CHRISTMAS CLASSIC
For Immediate Release
December 24, 2007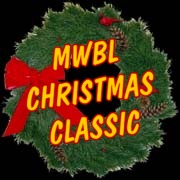 HAWAII — It was the MWBL 5th Annual Christmas Classic Run or the MWBL version of the Home Run Derby.  It's held in Hawaii on Christmas Eve. This holiday season it was on Monday evening and Andruw Jones representing the American League and Chicago Mobsters was the finest of Mid-West Baseball League's slugging stars.   The American League slugger out-tatered Albert Pujols of the Sacramento Capitals & the National League, who faded in the final round.
"Well, with the strength of God, I've been able to do this," said Jones a native Willemstad, Netherlands Antilles, who waved his country's flag after the victory. "It's very prideful to be able to do such a good job here at the Christmas Classic, representing the Mobsters Organization. It's important because any time you do anything well, you want to raise your flag.  Be it team, league or country."
Pujols hit only three homers in the final round. Jones took 23 swings and knocked out a final round total of 13. Jones had Pujols beat on his 4th swing of the final round launching another high drive into the left-field bleachers in which he called home all evening to win the event for the first time. Although the final round score of 13-3 decided the title, Pujols finished the first two rounds with 15 and Jones was supercharged with 21.
"I think I changed my approach a little bit [in the final round]," said Pujols, who was the National Leagues last chance. "I was trying to swing too hard. Other than that, I had a great time. I didn't know I was going to have a chance to participate in the Christmas Classic. But it was a great experience and I'm so glad that I did it. I won this award a few years back"
Stray Corrado, MWBL's Commissioner and Owner of the Chicago Mobsters, presented the trophy on the field to Jones afterward — two silver bats crossed on a silver pedestal. Jones competed in last year's Christmas Classic, exiting after the first round with five home runs.
"When I was last in the Christmas Classic I swung at every pitch," Jones said. "I came in this time with a different philosophy. It's absolutely worth it now that I've won. This is only my second Christmas Classic, but it's absolutely worth it. I've had problems with my calves, but my calves are perfectly fine now."
Jones evidently saved the best for last. After hitting 10 bombs in a first-round, and 11 in the second round, Jones belted 13 in the final round.
Albert Pujols of the Captials had a great first two rounds, but his 18 total was not good enough. The totals of the first two rounds decided which two players qualified for the finals.   Defending champ Manny Ramirez of the Tempers was not on hand as he had personal obligations at a car show.   The lefty swingers had a decided disadvantage and were all eliminated early. The right-handers had that more accommodating 302-foot left-field foul pole.
There was one Huge Bomb off the bat of Kentucky Head Hunter Troy Glaus that went for 574 feet, and put a huge dent in the aluminum siding on the house across the street from the park of a Mr. James Burmely.   When Glaus hit the house, and the mark became evident, along with a super loud thud against the aluminum siding, all the contestants in the
Christmas Classic took off running. "It was kind of funny" said David Ortiz of the Mobsters. "It's not like he Mr. Burmely didn't know who was out at there playing ball. He was probably watching it on his TV in the living room".
"You see Andruw hit a lot of homers today and it's actually harder to do than people think," said his Mobster teammate David Ortiz before the festivities.
A total of $354,000 monopoly dollars were earned for charity on the evening, $185,000 alone by Andruw Jones, who smacked out seven Gold Balls before recording his last out of the second round.
The Gold Ball came into play after the ninth out was recorded in any at-bat taken by each hitter. For every home run hit before the 10th and final out, the Smothers Brothers and Farm State cow insurance combine to donate $15,000 monopoly dollars. That figure represents the 15,000 monopoly players across the U.S. and Canada. Proceeds from the Gold Ball contributions continue to benefit the Pocket books of monopoly players around the world.
The Gold Ball platform was just an added plus to the competition, Jones said.
"I had a great time this year. It was a great experience. I just hope I can come back next year and participate."
Complete Details of the 2007 Christmas Classic Home Run Derby